Hello and welcome Maja Design friends. Tina Ollett with you today to share a moodboard inspired creation. As you may already be aware,  Maja Design's moodboard challenge is now up. Here is a glimpse for those who have not as yet seen it. Absolutely stunning!! A big thankyou to Marie Janson for all of her creativity putting these together every month.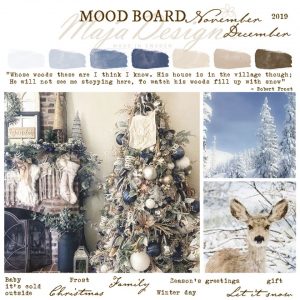 And this is my take on the gorgeous moodboard using the new release collection of Holiday in the Alps.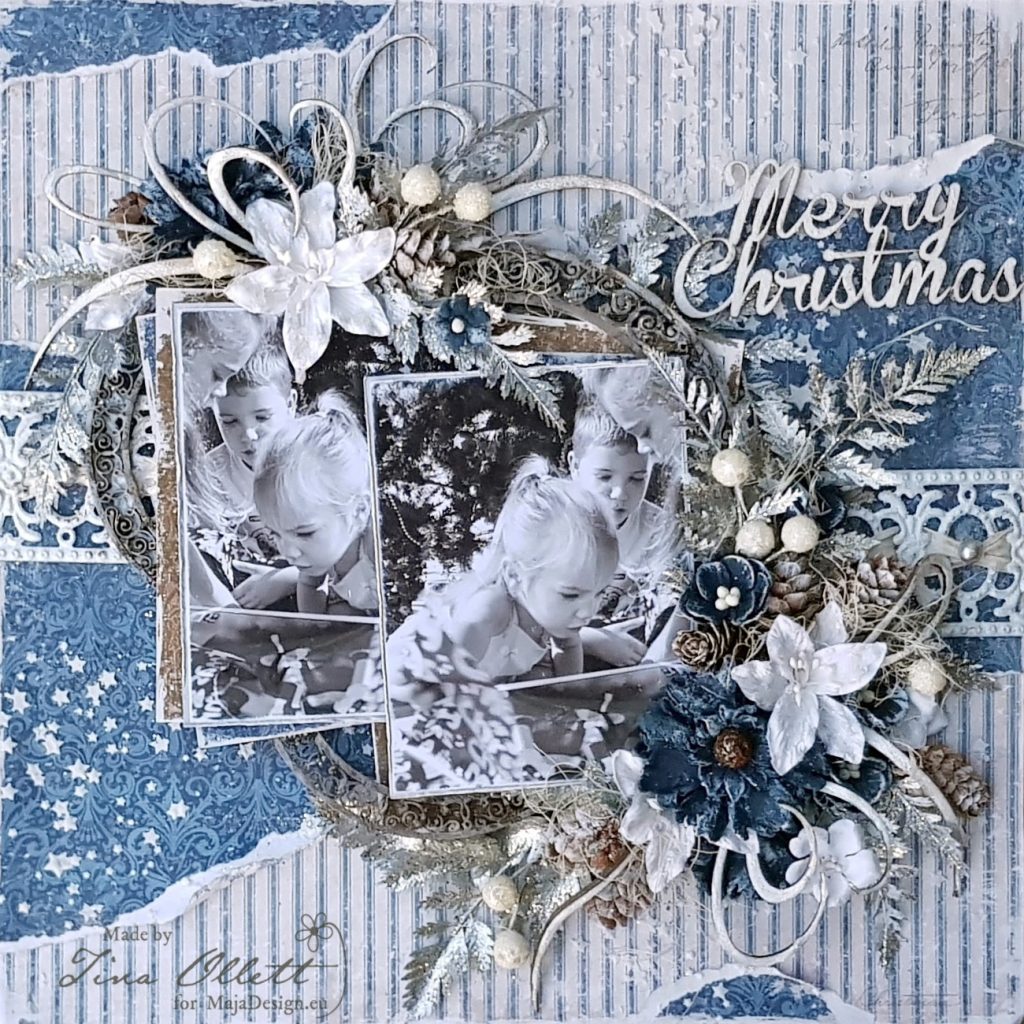 I have titled this layout "Merry Christmas". I hunted for a photo fit for this project for a long time. I had to dig very deep and then come across this. I cannot ever remember seeing this photo amongst my pics but there it was. A photo of all 3 of my beautiful children caught in the moment of opening gifts on Christmas morning. So many beautiful memories are bought about by this photo. Isn't it a beautiful thing that as scrapbookers we can relive the moment when creating.
Anyway more about the project. I have as previously mentioned used the new release designed by the very talented Marie Janson…. "Holiday in the Alps". She has created an absolutely amazing collection. I am not huge on Christmas but this collection just rocked my world. I can see myself doing lots more in the coming weeks. Below are the papers I have used.
I used the striped paper "Snowmen" as my background pieces and tore the blue sheet Snowflakes to sit through the middle of the project and the remaining pieces were made as photo matting for my two photos. I also decided a little bit later to add in some brown. So I added in the patterned paper "A New Year".
On my background I added in some texture paste through Dusty Attic's Starry Night stencil and then sprinkled over Sparkling Dust from Dress My Craft.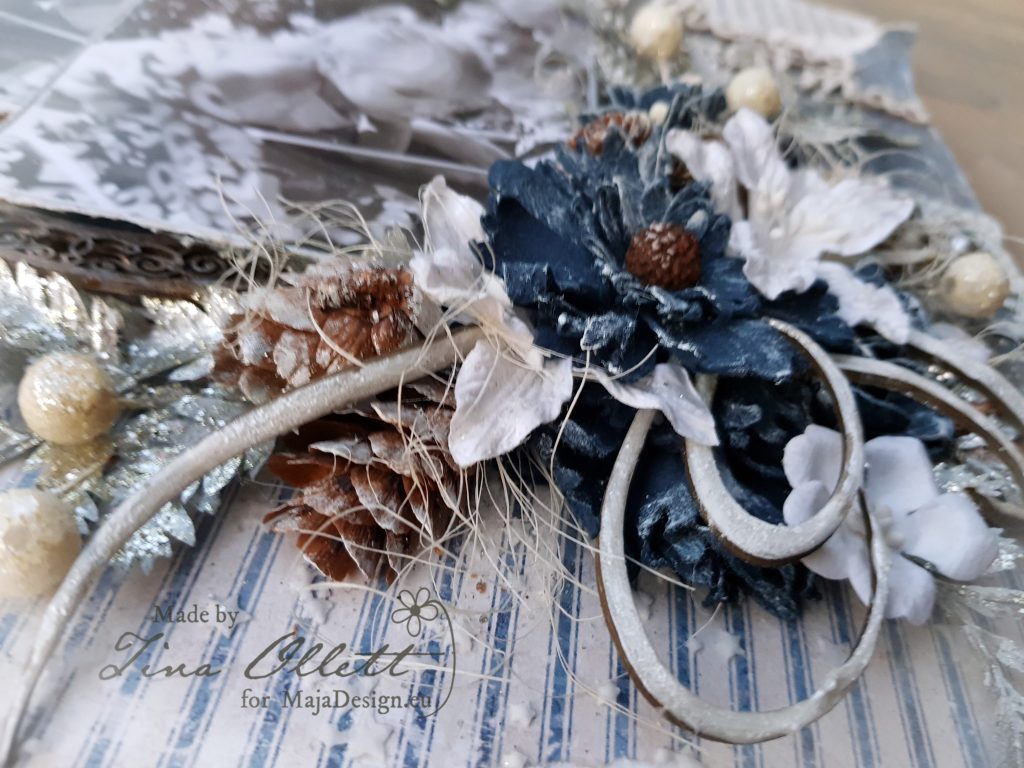 I have framed my photos using some gorgeous ornate frame chipboards from Dusty Attic. These were dressed in acrylic paints and inks. I also added in a couple of the Swirly frames and cut them into several pieces. They were dressed in Liquid Pearls and sprinkled over with Sparkling Dust.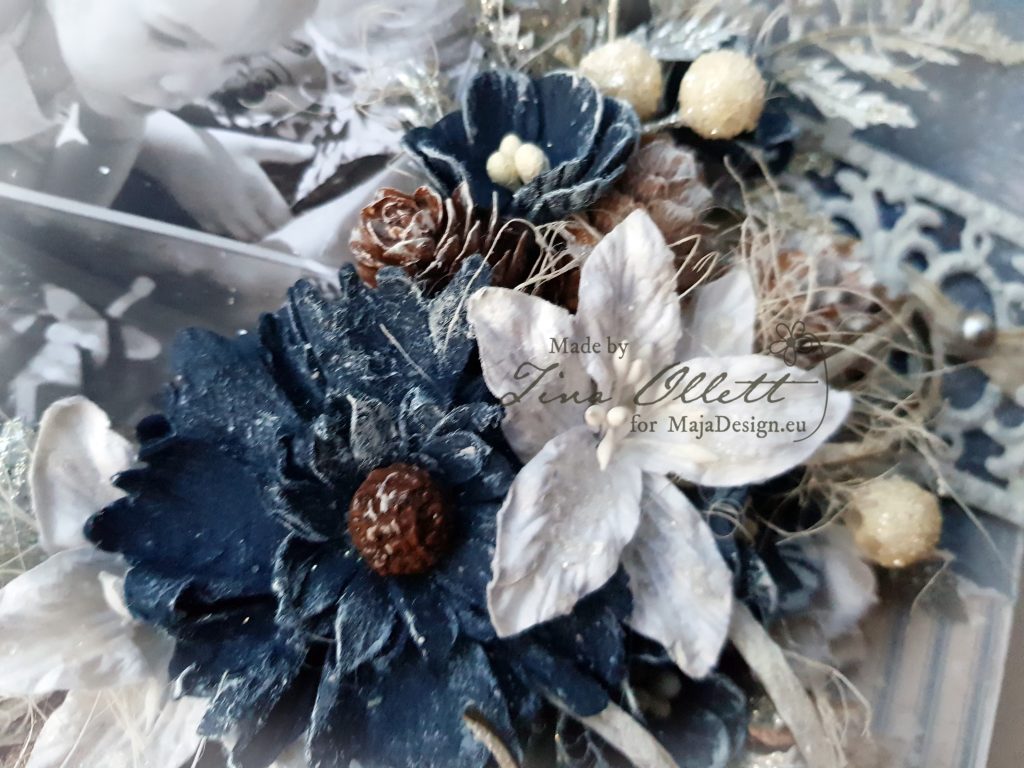 I found some gorgeous silver branches whilst out shopping this week which fit perfectly for this project. I didn't even have to colour them. Just cut and adhered.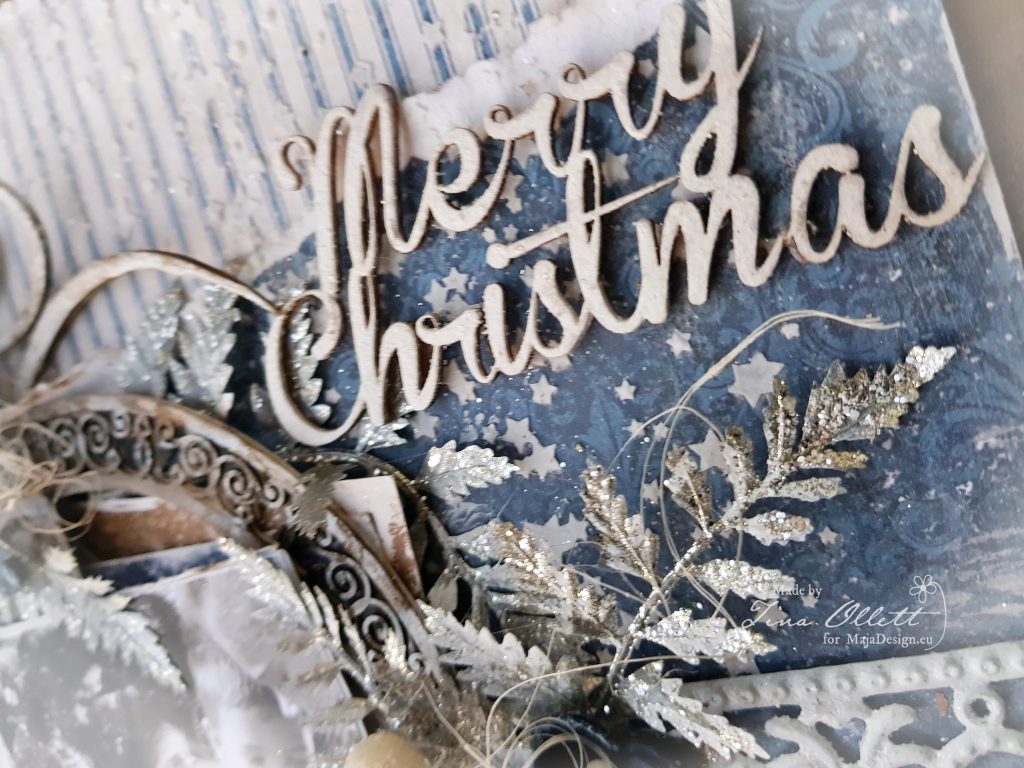 I have also added in some gorgeous little pinecones. These were spritzed in an irridescent clear spray and dusted with Sparkling Dust.
So that is it. A little bit of Christmas inspiration using this month gorgeous moodboard. I hope you find time to join us in the challenge. Thankyou so much for popping by here today and taking the time to look. We appreciate it.
Until next time take care and happy scrapping.